No article. >>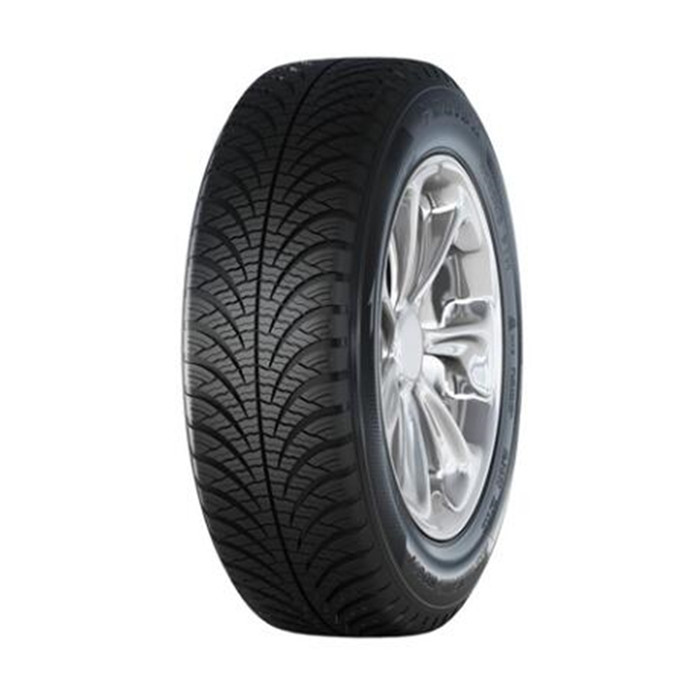 All season Car tyre HD637 to Bolivia
Brand

Haida

Certificate

CCC/DOT

Payment Term

T/T Bank transfer

Delivery time

7-15 days

Raw materials

Natural Rubber from Malaysia THAILAND

MOQ

1x20GP different sizes mixing
All reason Car tyre HD637 to Bolivia has a radial groove design, which has a strong wetland grip. We provide high-quality styles with good price to Bolivia customers.


Product characteristics of

Tire HD637
◆ Innovate the design of radial grooves and optimize the drainage channel, so as to strengthen the wetland.
High density horizontal three-dimensional serrated fine pattern design improves the grip on cold and smooth roads.
◆ The integrated pattern design optimizes and improves the turning performance and traction on dry roads.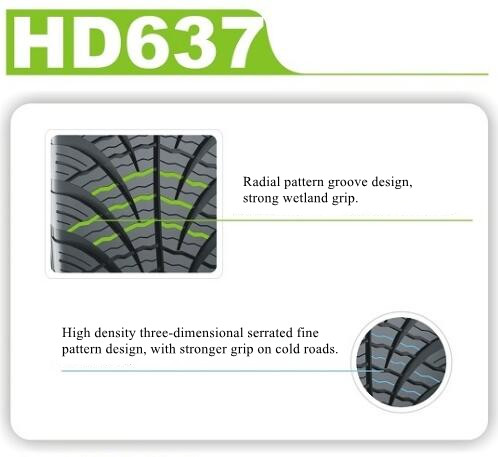 Main specifications and parameters of HD 637
Specification

load index

/level

Speed Class

Standard Rim

Inflated cross-section wide (mm)

inflated outer diameter (mm)

load capacity (Single/Dual) (kg)

Inflated pressure

(kPa)

195/65R15

91

H

6J

201

635

615

300

205/55R16

91

H

6 1/2J

214

632

615

300

235/45R17

97XL

V

8J

236

644

730

340
PCR /Car Tyres
PCR Tyres, as mentioned PCR stands for Passenger Car Radial tyres and is used for tyres that fit under car vehicles. Often they are just called 'tyres' because they cannot be fitted underneath other vehicles or machines than cars.
Passenger car tire is a tire mounted on a passenger car. It is mainly used for high-speed driving on good roads. The maximum driving speed can reach more than 200km/h. It requires comfortable riding, low noise, and good handling and stability. Most tire structures adopt radial structure. According to the requirements of driving speed, it can be divided into different series. In the standards and manuals, 95 and 88 series are diagonal tyres, and 80, 75, 70 and 65 series are radial tyres.
Haida Car Tyres to Bolivia
Bolivia is our main exporter in South America. In recent years, we have launched a series of preferential policies for Bolivian customers. Our tire products, especially all season tires, have won praise from Bolivian customers. Many of them have become our long-term agents. If you are also interested in cooperation, please contact us.
What kind of tires are all season tires? What is the mechanism of winter performance?
As I mentioned earlier, the tire compound (rubber) becomes harder and the grip decreases as the temperature decreases. Therefore, the rubber used for making studless anti-skid tires will not lose flexibility even at low temperatures. However, the soft rubber under low temperature will become soft under high temperature, which will damage the steering stability and lead to poor wear, so it is not suitable for summer use.
However, the performance of snow can be largely covered by the tread design. The shear force of snow column produced by treading on the pavement plays an important role in the grip performance of snow pavement. As a result, unlike studless tires, a certain degree of performance can be ensured without shaking the compound at low temperatures.
In other words, whether to ensure the elasticity of rubber running on hot roads in summer or to emphasize the flexibility of rubber at low temperatures is a tug of war.
At present, most tire manufacturers that sell all season tires do not require the traction performance on the icy road surface as the studless anti-skid tires do. Instead, they use rubber materials that are closer to summer tires to ensure the flexibility of the rubber at low temperatures, and use tread design.
If you want to ask anything just fill in the form below and send us. We will contact you within 12 hours.