Haida Tyres HD737 Van Tires for Chile
Brand

Haida

Certificate

CCC/DOT

Payment Term

T/T Bank transfer

Delivery time

7-15 days

Raw materials

Natural Rubber from Malaysia THAILAND

MOQ

1x20GP different sizes mixing
We wholesale Haida tire HD718 at competitive price to customers in Chile. Haida tire HD737 for van has strong shoulder block coupled with unique shoulder longitudinal groove design, stable steering performance and excellent braking performance.
Product characteristics of

Tire HD737

for van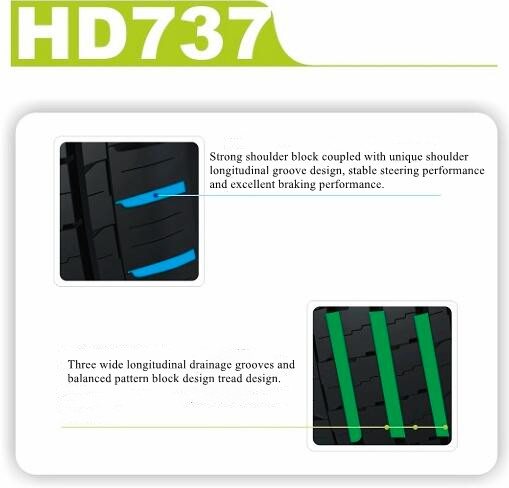 ◆ the strong shoulder block is coupled with the unique shoulder longitudinal groove design, which has natural and stable steering performance, excellent braking performance and balanced grounding pressure, as well as resistance to irregular wear and adapt to various road conditions.
◆ three wide longitudinal drainage grooves and balanced pattern block design tread design ensure the wet drainage performance and excellent handling performance of tires. At the same time, it has excellent durability and longer mileage; Stability can be maintained under load.
◆ strong carcass and strong bead design, load resistance, safer and more stable driving.
Main specifications and parameters of HD 737 for van
Specification

load index

/level

Load index

Speed Class

Standard Rim

Inflated cross-section wide (mm)

inflated outer diameter (mm)

load capacity (Single/Dual) (kg)

Inflated pressure

(kPa)

185R14C

8

102/100

R

51/2J

188

650

850/800

450

195/70R15C

8

104/102

R

6J

201

655

900/850

450

215/70R15C |

8

109/107

R

61/2J

221

683

1030/975

450

215/70R15LT

8

104/101

R

61/2J

22 1

683

900/825

450

185/75R16C

8

104/102

R

5J

184

684

900/850

475

205/65R16C

8

107/105

T

6J

209

672

975/975

475

215/75R16C

10

116/114

R

6J

216

728

1250/1 180

525

235/65R16C

8

115/113

T

7J

240

712

1215/1 150

475
Almost all modern cars use pneumatic tires. According to the different direction of the cords in the carcass, pneumatic tires can also be divided into ordinary bias tires, belt bias tires and radial tires. Pneumatic tires can be divided into tubeless tires and tubeless tires according to their different composition.
The classification of tires is as follows
1. According to the structure, they can be divided into two types: radial tire and bias tire; 2. According to the pattern, it can be divided into four types: striped tires, cross tread tires, hybrid tread tires and off-road tread tires; 3. According to the pressure, there are zero pressure tires and one kind of tire; 4. According to the size, it can be divided into full-size spare tire and non full-size spare tire; 5. According to different types of vehicles, they can be divided into eight types: PC car tires, lt light truck tires, TB truck and bus tires, Ag agricultural vehicle tires, OTR engineering vehicle tires, ID industrial vehicle tires, AC aircraft tires and MC motorcycle tires.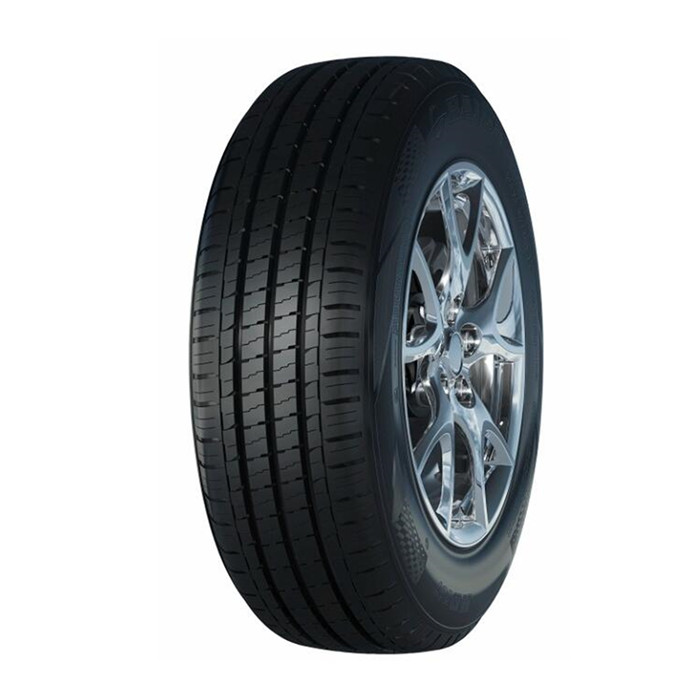 Haida tyres HD737 Van tires for Chile
If you are Chile customers and looking for a reliable tire manufacturer and supplier in China. We are the best choice for you! We are professional manufacturer and supplier of Haida HD737 Van tires. Our tires have been exported to many overseas countries. Among them, Chile is one of our major export countries. We will offer you high quality Haida tire HD718 with the most favorable price.
If you want to ask anything just fill in the form below and send us. We will contact you within 12 hours.