Haida truck tire bus tire TBR tyre HD183K
Brand

Haida

Certificate

CCC/DOT

Payment Term

T/T Bank transfer

Delivery time

7-15 days

Raw materials

Natural Rubber from Malaysia THAILAND

MOQ

1x20GP different sizes mixing
Haida truck tire bus tire TBR tire HD183K belongs to medium and long distance tire series. Its specially designed tread pattern makes the tire have stronger grip. The high cost performance makes this tire very popular.

Details of Haida truck bus tire TBR tyre
HD183K
Load capacity★★★★★☆
Wear performance★★★★★
Speed performance★★★★☆
Shipping distance★★★★☆
Pattern of Haida truck bus tire TBR tyre
HD183K

◆ Tyre HD183K's specially designed tread pattern makes the tyre have better grip;
◆ The optimized design of tyre HD183K's side block widening improves shoulder rigidity and tire eccentric wear resistance;
◆ The tread groove of tyre HD183K is designed with variable angle to prevent stone inclusion and improve the support performance of the tread block;
◆ The transverse groove on the shoulder of tyre HD183K enhances heat dissipation and has higher durability.
Product features of Haida truck bus tire TBR tyre HD183K
◆ The unique tread formula design of tyre HD183K provides excellent wear resistance and reduces irregular wear.
◆ Tyre HD183K adopts super strong bead design and high-strength framework material, which greatly improves the load bearing performance of the tire.
◆ The open shoulder groove design of tyre HD183K improves the heat dissipation performance.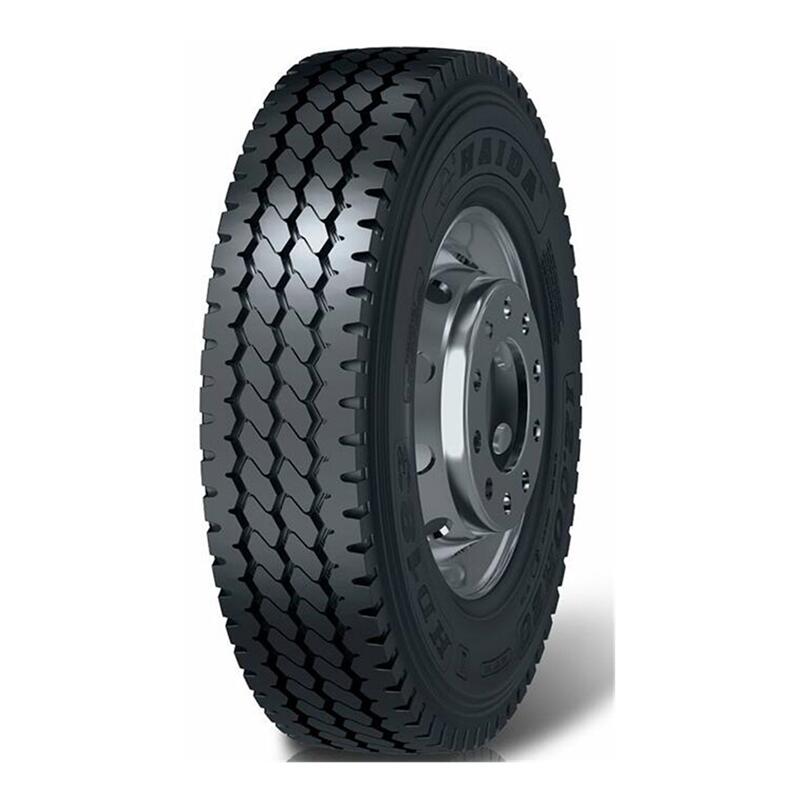 Main sizes and parameters of Haida truck

bus tire TBR tyre

HD183K
| | | | | | | | |
| --- | --- | --- | --- | --- | --- | --- | --- |
| Specification | level | Load index | Speed Class | Standard Rim | Inflated cross-section wide (mm) | inflated outer diameter (mm) | Design pattern depth (mm) |
| 10.00R20 | 18 | 149/146 | J | 7.50 | 278 | 1054 | 17 |
| 12.00R20 | 20 | 154/151 | J | 8. 50 | 315 | 1125 | 17 |
Classification of tyres (by use)
The classification of tires generally refers to the classification according to the use of tires. For example, in China's national tire standards, the American tire rim manual, the European tire rim standards, the Japanese tire standards, and the international tire standards, the classification is based on the use, and can be divided into the following types:
1. The car tire (PCR) is a tire mounted on a car, which is mainly used for high-speed driving on good roads, The maximum driving speed can reach more than 300 km/h, which requires comfortable riding, low noise, good handling and stability Most tire structures adopt radial structure According to the requirements of driving speed, it is divided into different series. The 80, 75, 70, 65, 60, 55, 50, 45, 40 and 35 series commonly seen in the standards and manuals are radial tyres, and the 95 and 88 series are diagonal tyres, which are rarely used in cars. For example, 185/60R15
2. Light truck tire (LVR<R) usually refers to truck tire with rim diameter of 16 inches and less and section width of 10 inches and less This type of tire is mainly used on highways, and the driving speed can generally reach 80~100km/h 175R13C, LT245/75R16
3. Truck and bus tyres (TBR) generally refer to the tyres for trucks, dump trucks, various special purpose vehicles and trailers with rim diameters of 18 to 24 inches, section widths of 7 inches and above. The road surface is relatively complex, including good asphalt road, poor gravel road, dirt road, muddy road, ice and snow road, and even no road conditions. The driving speed generally does not exceed 80km/h 9.00R20315/80R22.5
4. Construction machinery tyres (ILTT)) Construction machinery tyres are mounted on construction machinery vehicles for special operations, such as loaders, bulldozers, excavators, land levelers, road rollers and stone working machines. The driving speed is not high, but the road conditions and load performance are demanding. Diagonal tire structure is mainly adopted, but for example, French Michelin also adopts radial structure. The tire section width can be classified into standard tire and wide base tire.
5. Off road vehicle tire (SUV) The off-road vehicle is driven by front and rear wheels. The off-road tires are mainly driven on bad roads, such as desert, muddy land, soft soil or other roads without road surface. The tires are required to have high trafficability. The off-road tires often use low pressure, and some also use pressure regulating tires to adjust the tire pressure according to the road conditions. In order to improve off-road trafficability, measures such as widening the tire section and rim width, and reducing the rim diameter are generally adopted to increase the grounding area and reduce the grounding pressure. In addition to diagonal tire structure, radial tire structure is also used.
6. Agricultural and forestry machinery tyres (AGT) are mainly used on tractors, Kangbein combine harvesters and agricultural machinery vehicles. The tyres for forestry machinery are mounted on forestry tractors and forestry machinery for forestry cutting, skidding, shoveling and digging. Both tyres are characterized by low driving speed requirements, but their use conditions are harsh. They are often used on poor field roads, hard stubble fields or stone mountain roads, or even unpaved roads. The tyres are easy to be scratched or cut. Another feature is intermittent operation, short mileage, but long service life. Therefore, tires are required to have good resistance to flexure cracking and aging. The tire is mainly diagonal structure, but also radial structure.
7. Industrial vehicle tyres (ILLTS) are mainly used for pneumatic tyres, semi solid tyres and solid tyres on industrial vehicles. It includes battery truck tire, forklift tire and flatbed truck tire.
8. Motorcycle tyres (MT) are used for tyres on motorcycles. Including motorcycle tires, moped tires and small wheel diameter motorcycle tires.
9. Air tyres are used for pneumatic tyres on aircraft. 1
0. Special vehicle tires include artillery tires, tank tires, armored vehicle tires, desert tires, explosion-proof vehicle tires, etc.
11. The tractor tyre (CT) is used for pneumatic tyres of bicycles, tricycles and trolleys.
If you want to ask anything just fill in the form below and send us. We will contact you within 12 hours.