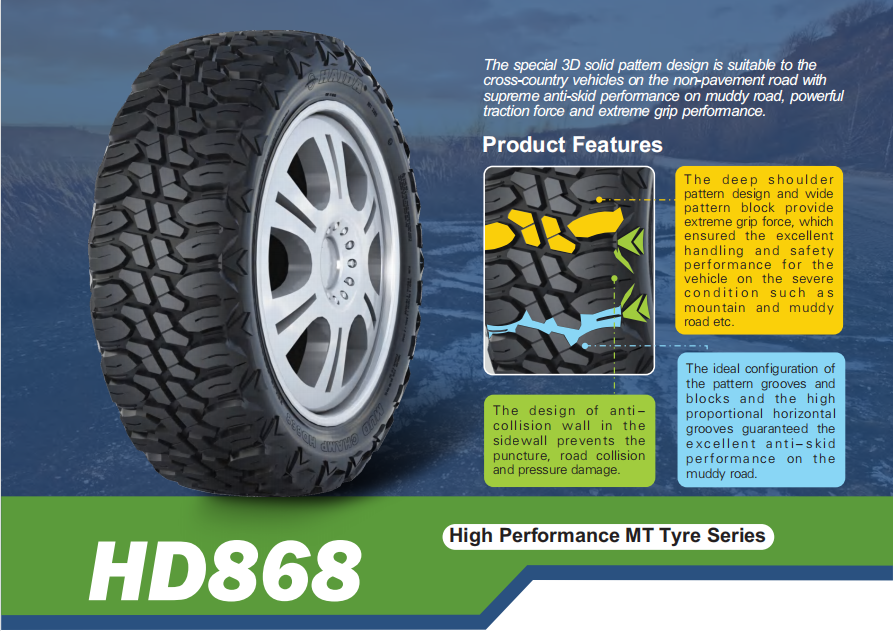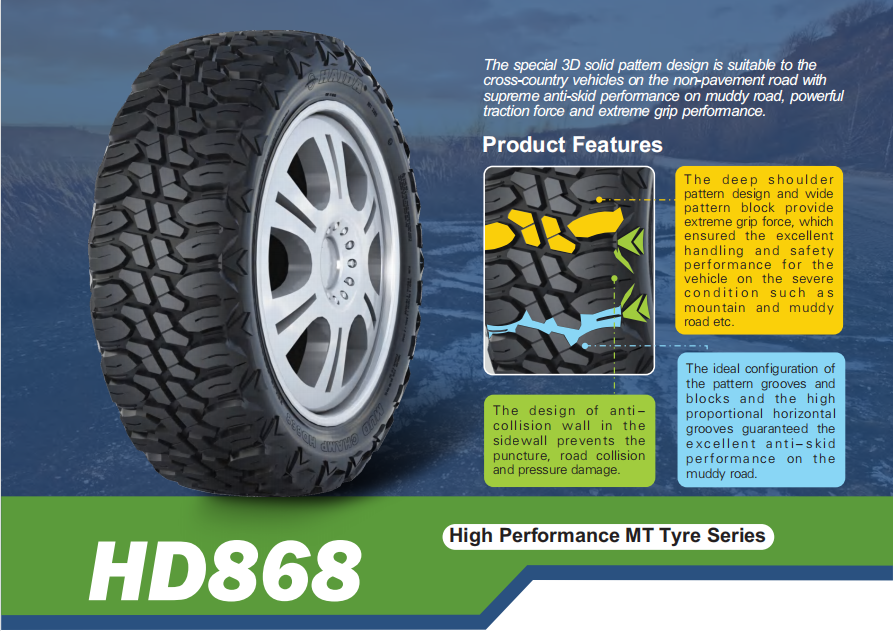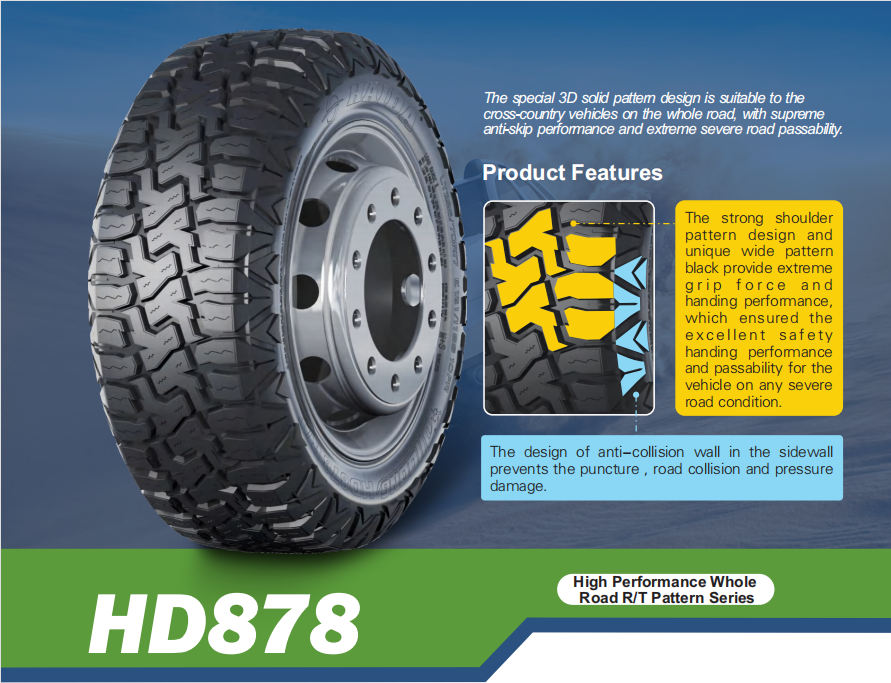 HD868 MT OFF ROAD TYRES HAIDA MILEKING RT TIRE
TAGS
| | | | | | |
| --- | --- | --- | --- | --- | --- |
| Tyre family | Brand | Size | 73Q | Pattern Code | Qty'/40'HQ |
| MT | HAIDA | LT245/75R16 E | 120/116Q | HD868 | 600 |
| MT | HAIDA | LT265/75R16 E | 123/120Q | HD868 | 550 |
| MT | HAIDA | LT285/70R17 E | 121/118Q | HD868 | 400 |
| | | 36*12.5R16.5LT 10PR | 130N | HD868 | 400 |
| MT | HAIDA | 33*12.50R17LT E | 120Q | HD868 | 380 |
| MT | HAIDA | 35*12.50R17LT E | 125Q | HD868 | 340 |
| MT | HAIDA | 33*12.50R18LT E | 118Q | HD868 | 380 |
| MT | HAIDA | 35*12.50R18LT E | 123Q | HD868 | 340 |
| MT | HAIDA | P275/60R20 | 115S | HD868 | 450 |
| MT | HAIDA | LT275/65R20 E | 126/123Q | HD868 | 420 |
| MT | HAIDA | 33*12.50R20LT E | 114Q | HD868 | 380 |
| MT | HAIDA | 35*12.50R20LT E | 121Q | HD868 | 340 |
| MT | HAIDA | 33*12.50R22LT E | 114Q | HD868 | 380 |
| MT | HAIDA | 35*12.50R22LT E | 117Q | HD868 | 340 |
| MT | HAIDA | 35*12.50R24LT E | 117Q | HD868 | 340 |
| Tyre family | Brand | Size | 73Q | Pattern Code | Qty'/40'HQ |
| MT | HAIDA | LT235/85R16 10PR | 120/116 | HD869 | |
| MT | HAIDA | LT245/75R16 10PR | 120/116 | HD869 | |
| MT | HAIDA | LT265/75R16 10PR | 123/120Q | HD869 | |
| MT | HAIDA | LT285/75R16 10PR | 126/123 | HD869 | |
| MT | HAIDA | 33*12.50R17LT10PR | 120Q | HD869 | 380 |
| MT | HAIDA | 37*12.50R17LT8PR | 124Q | HD869 | 320 |
| MT | HAIDA | 33*12.50R18LT10PR | 118Q | HD869 | 380 |
| MT | HAIDA | LT275/60R20 10PR | 123/120 | HD869 | |
| MT | HAIDA | 33*12.50R20LT12PR | 119Q | HD869 | 380 |
| MT | HAIDA | 35*12.50R20LT12PR | 125Q | HD869 | 340 |
| MT | HAIDA | 37*13.50R20LT10PR | 127Q | HD869 | 310 |
| MT | HAIDA | 37*13.50R20LT G | 131k | HD869 | |
| MT | HAIDA | 33*12.50R22LT12PR | 114Q | HD869 | 380 |
| MT | HAIDA | 33*14.50R22LT12PR | 117Q | HD869 | 380 |
| MT | HAIDA | 35*12.50R22LT12PR | 121Q | HD869 | 340 |
| MT | HAIDA | 33*12.50R24LT10PR | 104Q | HD869 | 380 |
| MT | HAIDA | 35*12.50R24LT10PR | 117Q | HD869 | 340 |
| MT | HAIDA | 37*13.50R24LT12PR | 126Q | HD869 | 300 |
| MT | HAIDA | 33*12.50R26LT10PR | 114Q | HD869 | 380 |
| MT | HAIDA | 35*13.50R26LT10PR | 118Q | HD869 | 320 |
| MT | HAIDA | 37*13.50R26LT12PR | 117Q | HD869 | 300 |
| Tyre family | Brand | Size | 73Q | Pattern Code | Qty'/40'HQ |
| Whole Road R/T | HAIDA | LT265/75R16 E | 123/120S | HD878 | 550 |
| Whole Road R/T | HAIDA | LT285/75R16 E | 126/123S | HD878 | 400 |
| Whole Road R/T | HAIDA | LT265/70R17 E | 121/118S | HD878 | 480 |
| Whole Road R/T | HAIDA | P265/70R17 | 115T | HD878 | 480 |
| Whole Road R/T | HAIDA | LT285/70R17 E | 121/118S | HD878 | 400 |
| Whole Road R/T | HAIDA | P285/70R17 | 117T | HD878 | 400 |
| Whole Road R/T | HAIDA | 33*12.50R17LT E | 120Q | HD878 | 380 |
| Whole Road R/T | HAIDA | 35*12.50R17LT E | 125Q | HD878 | 340 |
| Whole Road R/T | HAIDA | 33*12.50R18LT E | 118Q | HD878 | 380 |
| Whole Road R/T | HAIDA | 35*12.50R18LT E | 123Q | HD878 | 340 |
| Whole Road R/T | HAIDA | 37*13.50R18LT D | 124Q | HD878 | 310 |
| Whole Road R/T | HAIDA | P275/60R20 | 115T | HD878 | 450 |
| Whole Road R/T | HAIDA | 33*12.50R20LT E | 114Q | HD878 | 380 |
| Whole Road R/T | HAIDA | 35*12.50R20LT E | 121Q | HD878 | 340 |
| Whole Road R/T | HAIDA | 37*13.50R20LT E | 127Q | HD878 | 310 |
| Whole Road R/T | HAIDA | 33*12.50R22LT E | 114Q | HD878 | 380 |
| Whole Road R/T | HAIDA | 35*12.50R22LT E | 117Q | HD878 | 340 |
| Whole Road R/T | HAIDA | 33*12.50R24LT E | 104Q | HD878 | 380 |
| Whole Road R/T | HAIDA | 33*14.50R24LT E | 110Q | HD878 | 306 |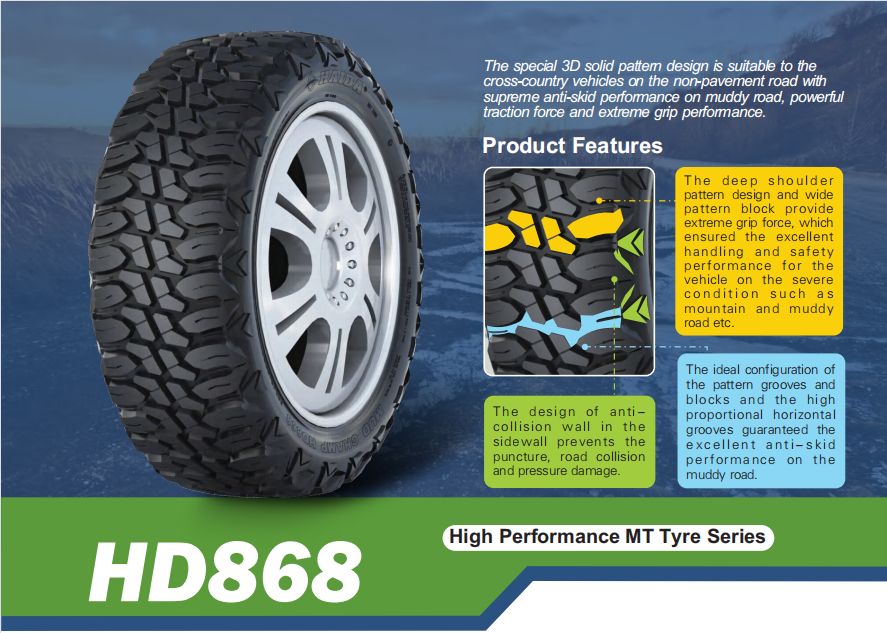 Product Features
High Performance MT Tyre Series
The deep shoulder pattern design and wide pattern block provide extreme grip force, which ensured the excellent handling and safety performance for the vehicle on the severec ondition such as mountain and muddy road etc.
The ideal configuration of the pattern grooves and blocks and the high proportional horizontal grooves guaranteed the excellent anti-skid performance on the muddy road.
The design of anti-collision wall in the sidewall prevents the puncture, road collision and pressure damage.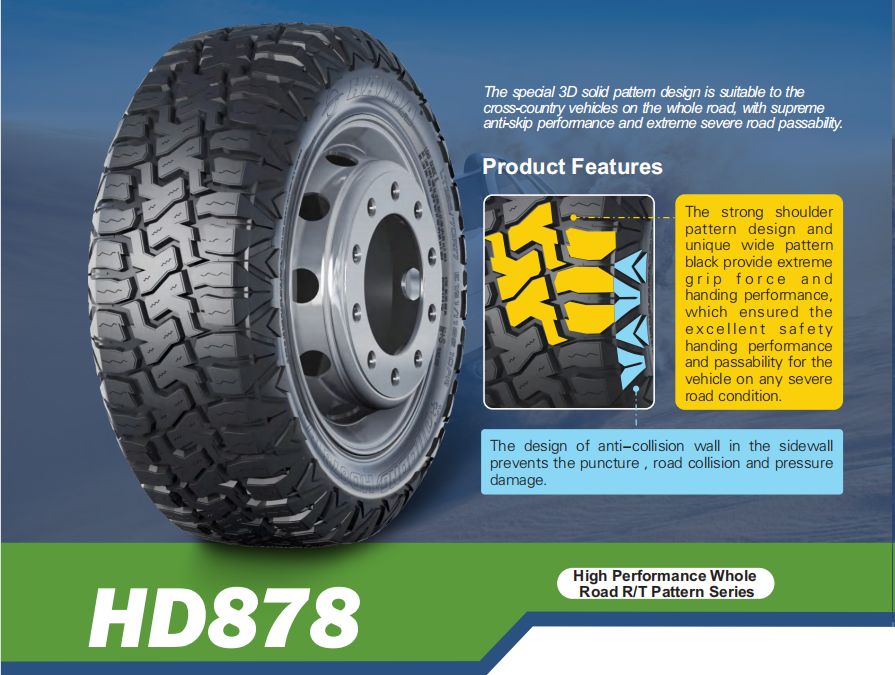 High Performance Whole

Road R/T Pattern Series

The spedial 3D salid pattem design is suitable to the cross-country vehicles on the whole road, with supreme anti-skip perfomance and exteme severe road passabilty.

The strong shoulder pattern design and unique wide pattern black provide extreme grip force and handing perfomance,which ensured the excellent safety handing perfomanceand passability for the vehicle on any severe road condition.

The design of anti-collision wall in the sidewallprevents the puncture , road collision and pressuredamage.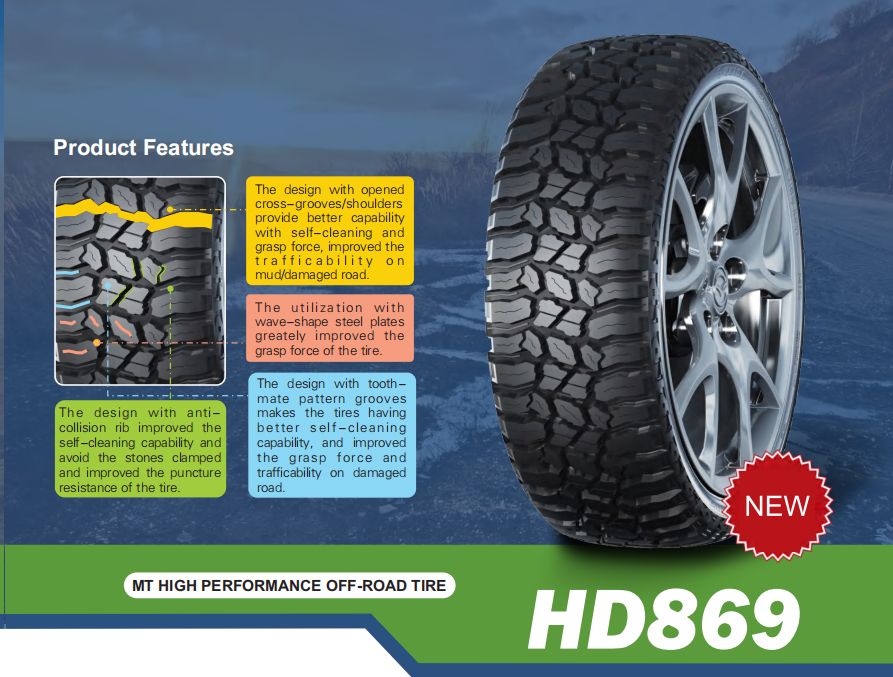 MT HIGH PERFORMANCE OFF-ROAD TIRE
The design with opened cross- grooves/shoulders provide better capability with self-cleaning and grasp force, improved the trafficability on mud/damaged road.
The utilization withwave-shape steel plates greately improved the grasp force of the tire.
The design with tooth-mate pattern grooves makes the tires having better self-cleaning capability, and improved the grasp force and trafficability on damaged road.
The design with anti-collision rib improved the self-cleaning capability and avoid the stones clamped and improved the puncture resistance of the tire.

If you want to ask anything just fill in the form below and send us. We will contact you within 12 hours.
Name: Abel time:2022-04-01 09:53:07
Oh the tyre looks cool. Great quality and durability. Price & handle heavy weight.
Name: Joshua time:2022-03-29 11:59:05
Great tyres and just an unbelievable price!
Name: Kenneth time:2022-03-17 10:40:21
Great for small projects! I bought these wheels to make a project that was rather heavy and with these make it easier to move around.
Write a review