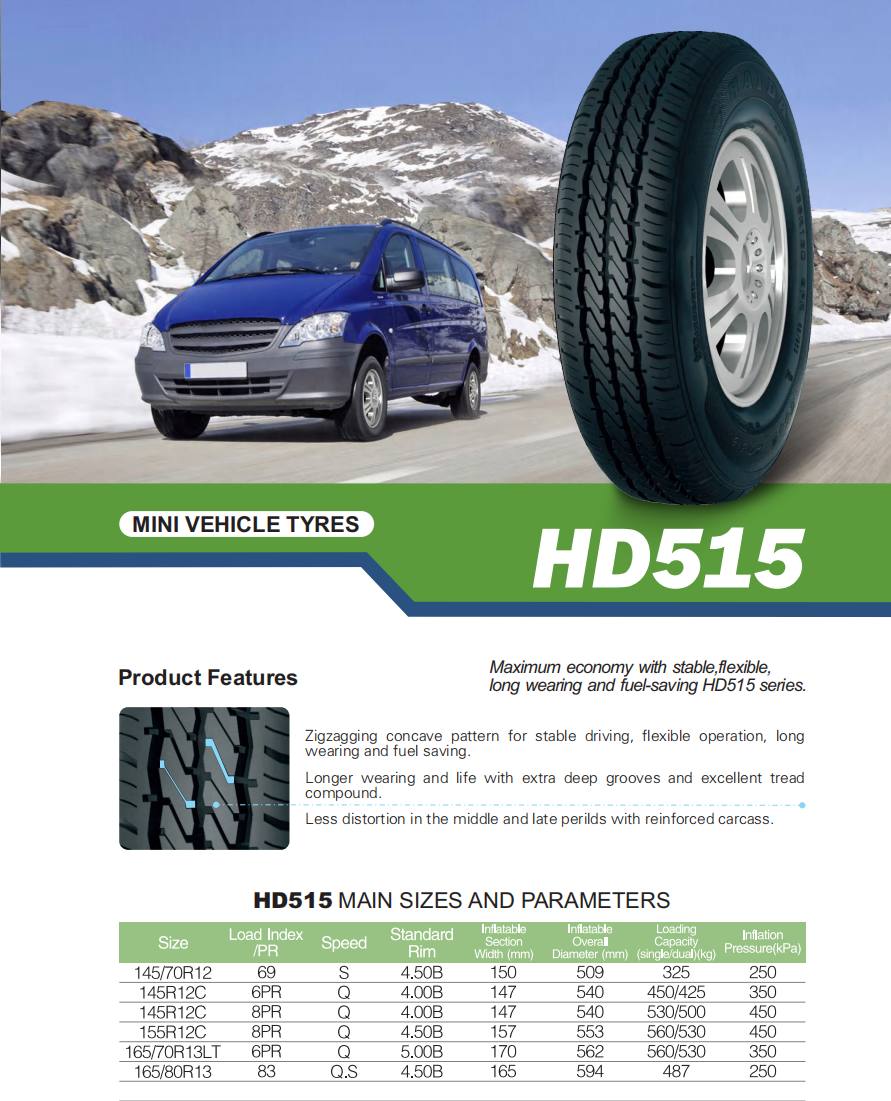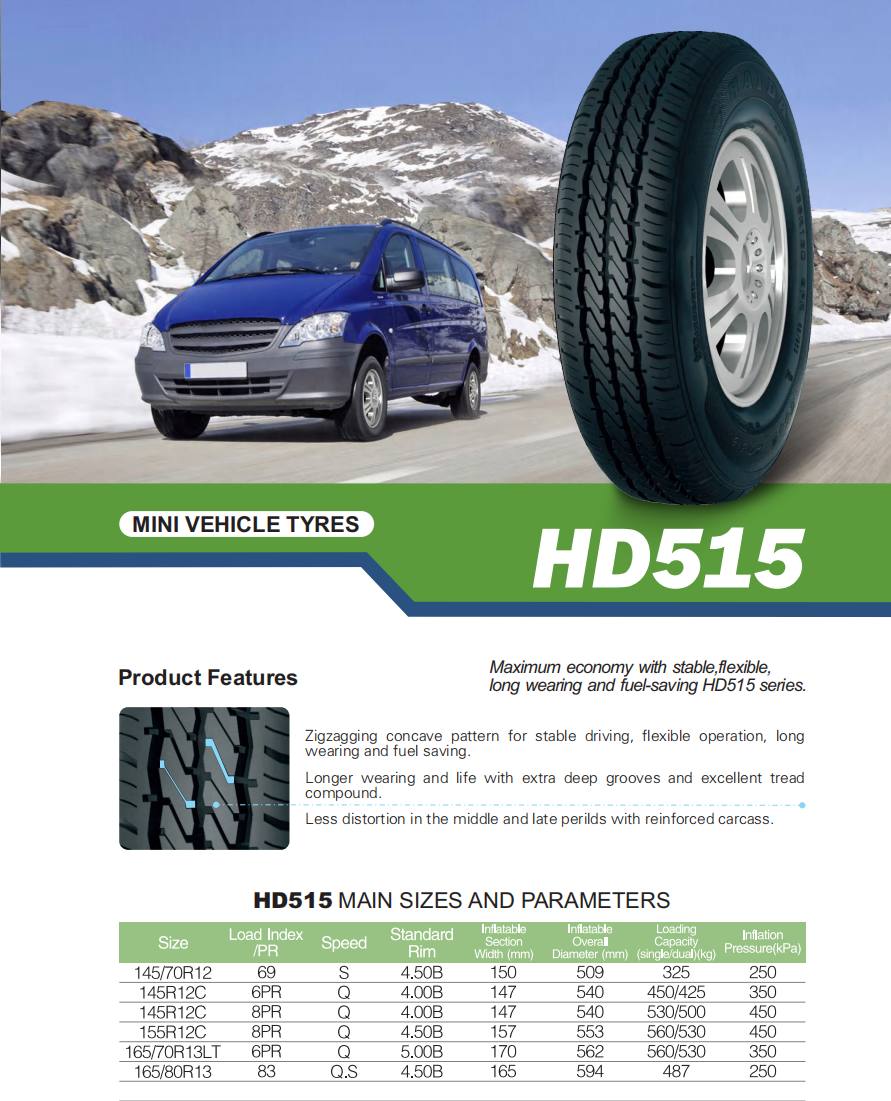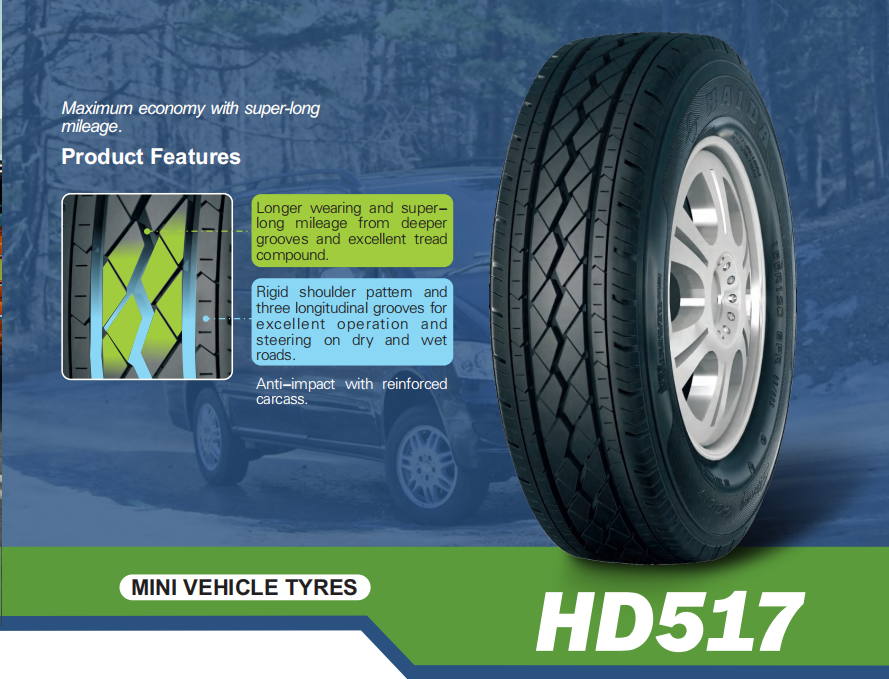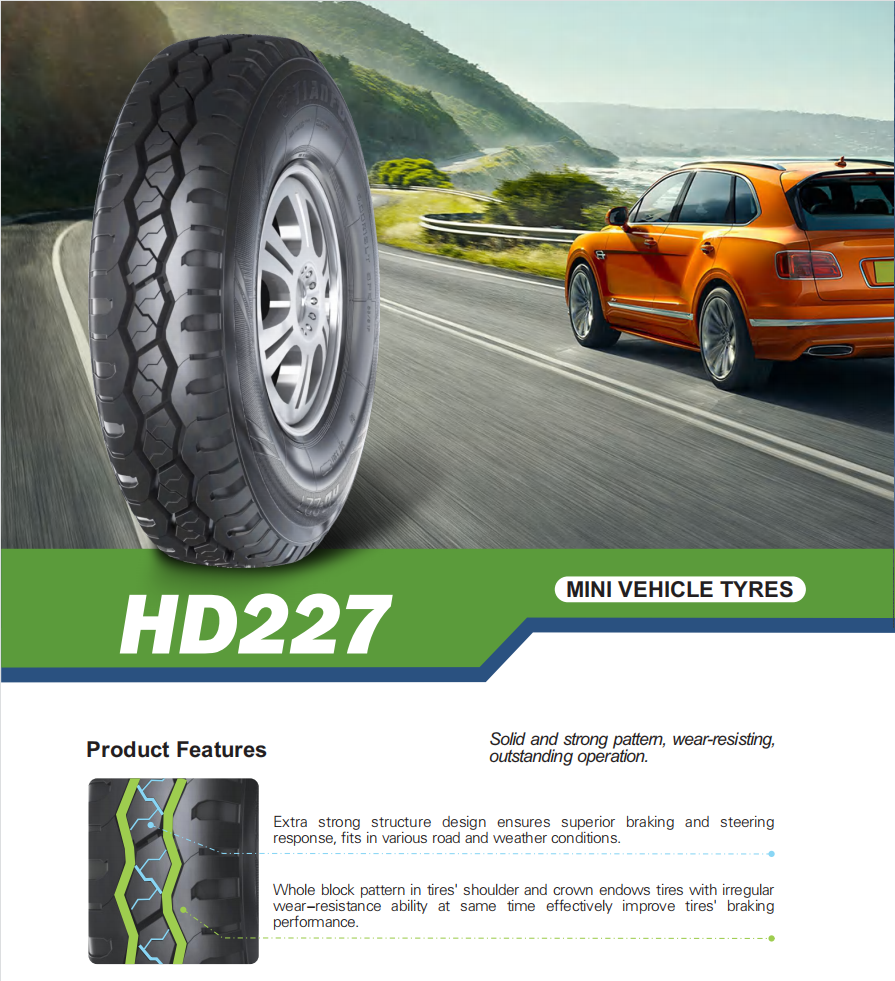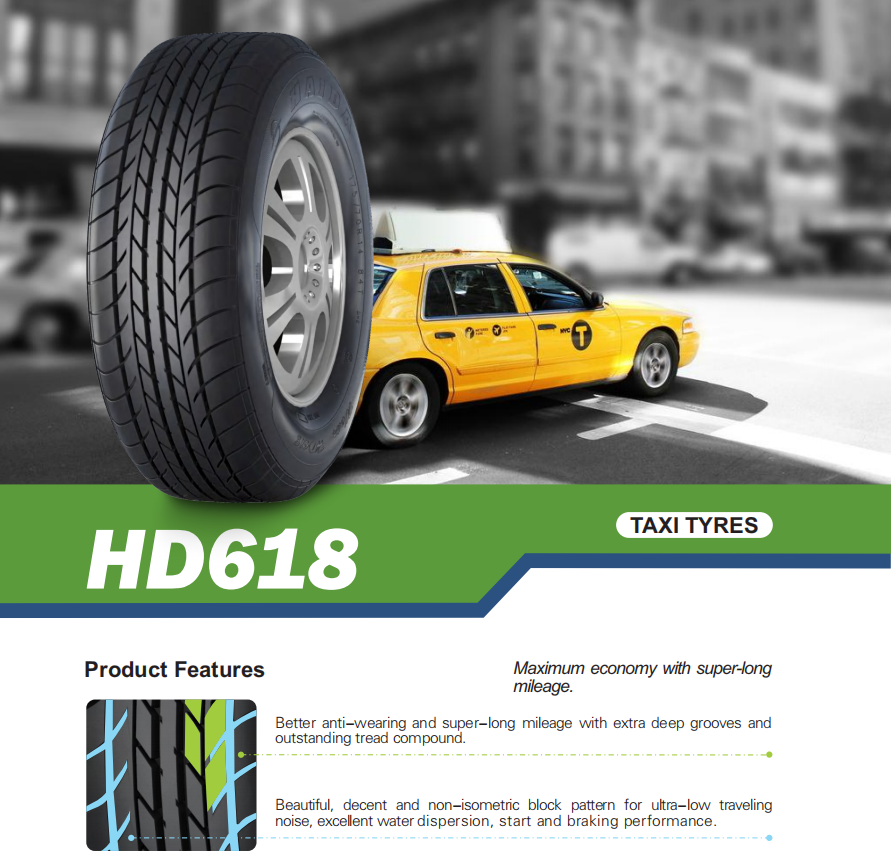 Mini vehicle tyres HD515 HD517 145/70R12 155R12C 500R12 185R14C
Brand

TIANFU PANDA TIRES HAIDA MILEKING MT TYRE NEUMATICOS PNEUS PNEUMATIC REIFEN

Size

Mini vehicle tyre, economy tyre, summer tyre

Certificate

ECE/DOT/GSO/SASO/POR/EU LABELING/SNI/INMETRO

Payment Term

T/T Term Bank transfer

Delivery time

Within 15 days after received deposit

Raw materials

Thailand/Malaysia Natural rubber(Top Quality),Germany Synestic Rubber,Carbon Black,Steel Belt,etc

MOQ

1x20GP Different sizes mixing
TAGS
tyre factory manufacture Mini vehicle tyres economy PCR one of largest china tyre factory produce complete PCR UHP SUV 4X4 MT AT OFF-ROAD Tyres,radial truck bus tyre,agricultural tyre,implement tyre, nylon tyre, TBB,industrial tyre, forklift tyres ,military tire, farm tyre, agri wheels.
Specification:
1> 20 years factory producing all series of tyres in Truck Tire, Car Tire(MT Pattern) , Winter Tire, Run Flat tire and Bias OTR, also have the Port used tires, Forklift, Skid steer tires and
2>Certifications: ISO9001, ISO/TS16949, CCC, E-mark, DOT, GSO/GCC, SONCAP, INMETRO, BIS, SASO and NOM. Help you do any certification.
3>Professional Marketing Team
4>Exclusive Agents rules and Market Protection Rules
5>OEM or ODM experience

Exclusive Agents rules and Market Protection Rules.
Complete series and fassion patterns
High reputation on the world
OEM experience
Marketing Support
Own almost certification
| | | | | | |
| --- | --- | --- | --- | --- | --- |
| Tyre family | Brand | Size | 73Q | Pattern Code | Qty'/40'HQ |
| mini-car | HAIDA | 145/70R12 | 69S | HD515 | 2400 |
| mini-car | HAIDA | 145R12C8PR | 86/84Q | HD515 | 2400 |
| mini-car | HAIDA | 155R12C8PR | 88/86Q | HD515 | 2300 |
| mini-car | HAIDA | 165/80R13 | 83S | HD515 | 1900 |
| Light Truck | HAIDA | 5.00R12LT10PR | 88/86P | HD516 | 2600 |
| mini-car | HAIDA | 155R12C8PR | 88/86Q | HD517 | 2300 |
| mini-car | HAIDA | 165/70R13C6PR | 88/86Q | HD517 | 2000 |
| mini-car | HAIDA | 175R13LT8PR | 97/95R | HD517 | 1650 |
| mini-car | HAIDA | 165R14LT8PR | 96/95Q | HD517 | 1900 |
| mini-car | HAIDA | 175/70R14LT6PR | 87/84S | HD517 | 1400 |
| mini-car | HAIDA | 175/70R14C6PR | 95/93S | HD517 | 1400 |
| mini-car | HAIDA | 175/70R14C8PR | 99/95Q | HD517 | 1400 |
| mini-car | HAIDA | 175/70R14LT8PR | 93/90S | HD517 | 1400 |
| mini-car | HAIDA | 175/70R14LT8PR | 99/97S | HD517 | 1400 |
| mini-car | HAIDA | 175/70R14 | 88S | HD517 | 1400 |
| mini-car | HAIDA | 175/75R14C 8PR | 99/98R | HD517 | 1350 |
| mini-car | HAIDA | 175R14LT6PR | 94/92R | HD517 | 1700 |
| mini-car | HAIDA | 175R14LT8PR | 99/97R | HD517 | 1700 |
| mini-car | HAIDA | 175R14LT8PR | 99/97R | HD517 | 1700 |
| mini-car | HAIDA | 185/65R14 | 90S | HD517 | 1500 |
| mini-car | HAIDA | 185/70R14 | 92S | HD517 | 1400 |
| mini-car | HAIDA | 195R14LT6PR | 100/99N | HD517 | 1400 |
| mini-car | HAIDA | 195R14LT8PR | 105/103N | HD517 | 1250 |
| mini-car | HAIDA | 185R15LT6PR | 98/97R | HD517 | 1300 |
| mini-car | HAIDA | 185R15LT8PR | 103/102R | HD517 | 1300 |
| mini-car | HAIDA | 195R15C8PR | 106/104Q | HD517 | 1200 |
| mini-car | HAIDA | 195R15C8PR | 106/104Q | HD517 | 1200 |
| mini-car | HAIDA | 215/75R16LT 10PR | 112/109Q | HD517 | 800 |
| mini-car | HAIDA | 175/80R14 | 92S | HD518 | 1400 |
| Light Truck | HAIDA | 155R13LT8PR | 90/88Q | HD612 | 2100 |
| Light Truck | HAIDA | 155R13LT8PR | 90/88S | HD612 | 2101 |

PCR Car light truck SUV AT MT tyre technology
* Five -pitch 3D noise-free technology disturbs resonance to achieve tire mute .
* Finely-divided tread pattern , corresponding to each division of the steel ,ensures fantastic ground grasping performance in wetlands and improves driving safety.
* Four linear grooves ensures superior drainning performance
* Formulation with silicon optimizes tread stiffness , provides splendid wear resistance and lowers rolling resistance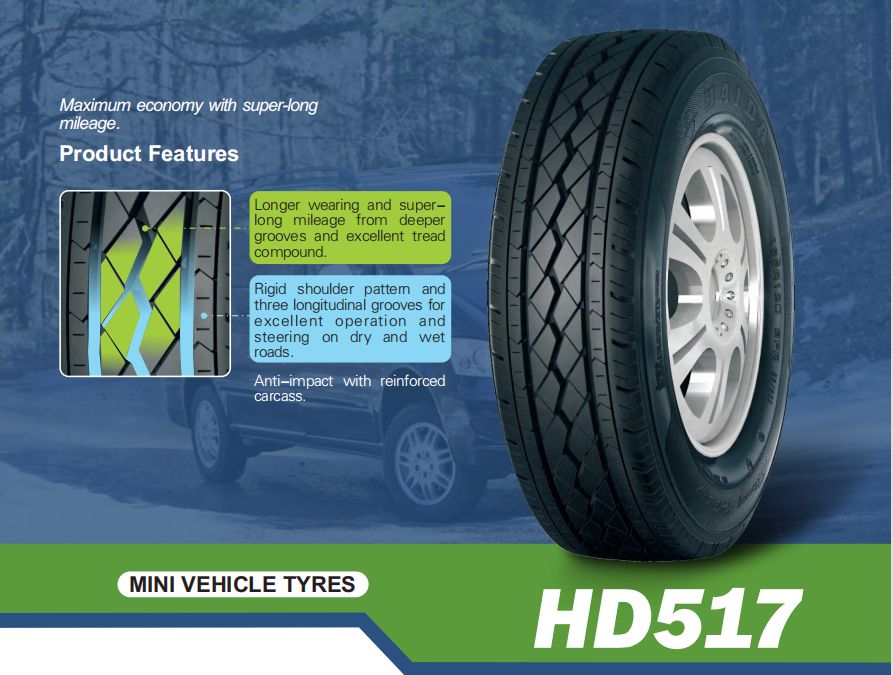 Taxi tyre Mini vehicle tyre tread pattern characteristic:
1.Outside with wide ribs and closed shoulder for vehicle responsiveness and cornering performance. Inside with wide grooves and high sipe density for braking, acceleration and maximing wet/snow evacuation.
2.Jointless "0" degree spiral nylon cover and wide steel belts for high driving safety, comfort and druability.
3.Jointless mono strand bead wire and hard bead filler strengthen the link between tire and rim for precise driving experience.
4.High-grip silica tread compound delivers exceptional braking and handling in wet and dry conditions.
5.The walls of the outside rib carved with small channels to reduce driving noise.
6.variable pitch alighnment for a quiet driving environment.
| Product Line Name | Production Line Capacity | Actual Units Produced(Previous Year) |
| --- | --- | --- |
| Truck Tire, Car Tire, Off Road Tire, Agriculture Tire, Bus Tire | Truck Tire:65000 pieces/Month;Car Tire:65000 pieces/Month;Off Road Tire:60000 pieces/Month;Agriculture Tire:65000 pieces/Month;Bus Tire:65000 pieces/Month | Truck Tire:700000 pieces;Car Tire:700000 pieces;Off Road Tire:600000 pieces;Agriculture Tire:700000 pieces;Bus Tire:700000 pieces |


We promise you competitive pricing, prompt delivery and good service ,and offer market protect and tyre warrenty policies to protect our customers long-term benefits.
1. Tyre sizes: PCR from 12" to 24", includes PCR, UHP, LTR, MT and winter tires, etc.
2. Our certificates: CCC, ECE, DOT, GSO/GCC, SONCAP, INMETRO, NOM
3. Quality warranty 60000 km.
4. sells well in Australia,Latin America,Chile ,Peru, Uzbekistan, Mexico ,USA, Panama , Cyprus, France, Italy Spain. Kenya etc..

WHY WE COOPERATE
1.RICH EXPERIENCE
Profound understanding of the tire industry .

2.WIDE RANGE OF PRODUCTS
Full range of TBR, PCR, OTR etc in production.

3.MOST RELIABLE QUALITY
Best R&D team with dependable quality control system. Good reputation.

4.MOST COMPETITIVE PRICE
Our price is lower than most of the competitors with similar quality.

5.FASTEST DELIVERY
Regular stock. Prompt shipment for most of the orders.

6.BEST MARKET PROTECTION
Full market protection. Strict control for the shipment to transit ports.

7.SINCEREST SERVICE
Quick solutions for the problems from all the customers.

1. Q: How is our company?
A:1.Our equipment is provided by famous brands like VMI, Fischer, KOKUSAI, etc.
2.Our major machines from Germany, steel cord from Italy, natural rubber from
Malaysia,engineer team from Hankook, strictly restrict in every process.
3.Our technical team are cooperating with YOKOHAMA engineers.
4.Our workers have over 10 years of experience. They keep good timing which is essential during tire production.

2. Q:Why choose our Wholesale all season summer Winter Car Tire 185/65r15 195/65r15225/50r17 225/55r17175/70r13 235/50r17 265/60r17
A:1.our tire is best in quality,tire tread are with good design, ribs are strong, rubber are best selected from Malaysia, we have soft and hard compoundfor your choice,
our tires all have quality warranty.
2.Our tires are strictly controlled by each process, we only sell calss A quality tire.
3.We protect your market and profit, we will put only one client in one area to avoid bad competition.
If you want to ask anything just fill in the form below and send us. We will contact you within 12 hours.
Name: H. Egan time:2022-05-07 13:49:11
The tyres are very great. The price is very reasonable. I am well pleased with all aspects of the product.
Name: Ira time:2022-04-11 15:30:51
Awesome tire. great quality! Highly recommend it.
Name: Abdul time:2022-03-17 10:37:50
These tires are at a great price, they were perfect for the task I needed them for.
Write a review